"Don't touch the figs". I Claudius – Episode 5, reviewed.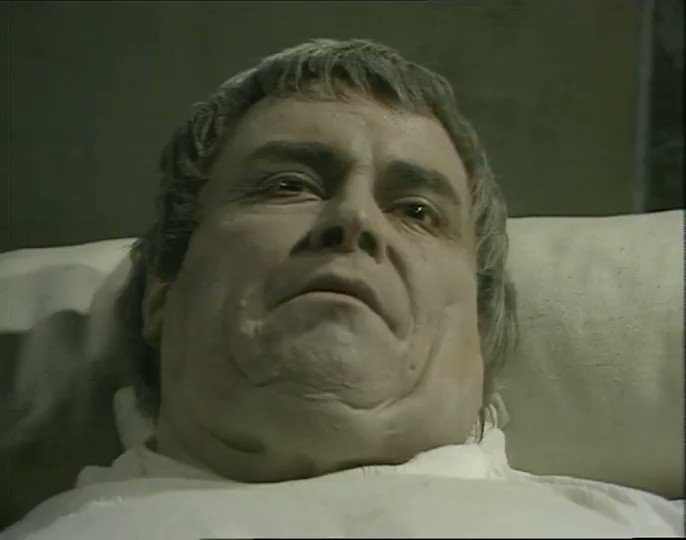 And so, farewell to Brian Blessed's Augustus – and the world is a sadder and a quieter place.
In this episode, Livia discovers (by sort of bribing the chief Vestal Virgin), that Augustus has changed his will to favour his exiled grandson Posthumus and so finally has to dispatch her husband.
She gives him a long speech during his final minutes, during which the precise moment of his passing is hard to determine. I've watched this scene many times and I'm still not sure when I'm starting to look at a dead man. The camera remains trained on Augustus' dying speech throughout so Livia words are effectively a voice over. We seem to be dying with him. The gist of the speech is "I was right and you were wrong".
Earlier, Livia's initial suspicions regarding the changes in the will are provoked by the fact that Augustus is in a strangely good mood and has developed an irritating whistle. It becomes clear that she has left Claudius out of her calculations. Augustus revises his will in favour of Posthumus because Posthumus told Claudius what he knew, and Claudius told Germanicus so that Germanicus could tell Augustus. Claudius was the link in the chain that Livia hadn't counted on.
Claudius loses his stutter when describing Posthumus' Livia-centric theory of recent history to Germanicus, although of course Germanicus is one of the few people he doesn't have to perform his idiocy in front of. Beforehand, they've been still laughing about how tall Claudius's wife is – a circumstance which somehow never stops being hilarious.
Claudius is later granted one extended affectionate conversation with Augustus – the only such conversation that we're led to believe the pair of them ever enjoyed. Claudius is promised many such friendly conversations…
There is a bitter and poignant meeting of Augustus and Posthumus on Posthumus' tiny island as the last son of Agrippa bitterly reproaches the emperor on his ruinous credulity and the emperor collapses in tears. Apparently, Augustus can't just take him back with him because, despite what we thought was his absolute control of the senate, there is political work to be done before the official banishment can be properly rescinded. Augustus can't even move him to a nicer island it seems.
Livia is slightly tipsy throughout this episode as she gathers sufficient Dutch courage to somehow dispatch her husband of fifty years.
Augustus is canny enough to avoid eating or drinking anything he hasn't picked himself. He milks the goat himself and he picks figs for himself. The only solution for Livia is to smear poison on the figs while they're still on the fig tree.
About the last thing Augustus does, incidentally, is have a dice party. The Romans did not have playing cards and so indoor gambling largely consisted of dicing. I'm not a gambler myself, but throwing dice sounds to me like the dullest way of losing money imaginable.
Tiberius has another near nervous breakdown. George Baker was of course older than Brian Blessed and all the make up in the world sometimes has trouble disguising this reality. The fact that John Castle (Posthumus) looks far too old to be Augustus' grandson is also an issue.
With Augustus gone, Posthumus must swiftly follow and the revised will suppressed.
Towards the end of this episode instructions are given to a familiar looking praetorian guard, a steely faced determined character with familiar eyes and unfamiliar hair – who is just told to "make it so".
Thoughts about other episodes in this series…

See below.


Episode 1:
https://conradbrunstrom.wordpress.com/2021/09/25/a-touch-of-murder-rewatching-i-claudius-episode-one/
Episode 2:
https://conradbrunstrom.wordpress.com/2021/09/28/family-affairs-i-claudius-part-1b/
Episode 3:
https://conradbrunstrom.wordpress.com/2021/10/01/waiting-in-the-wings-i-claudius-part-3-reviewed/
Episode 4: